Many people have already discovered the joy and the charm of having their own outdoor kitchens in the state of Texas; after all, Texas is all about the great outdoors and living in open airy spaces. Cooking outdoors gives food a natural, fresh flavor that appeals to everyone. Whether you are just cooking a sumptuous feast for you and your family or hosting an entire block party, preparing the food outdoors just seems better somehow. One of the things that can make your food preparation a resounding success is the cooking equipment you use. And for that, TLC Outdoor Living is the one that can provide the best outdoor kitchen grills in Houston, TX.
At TLC Outdoor Living, we offer top-of-the-line outdoor kitchen grills and all other accessories you might need to make food preparation a breeze.
---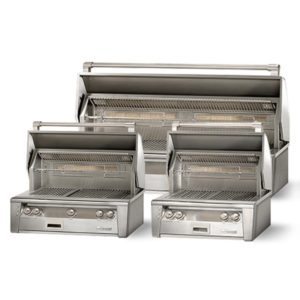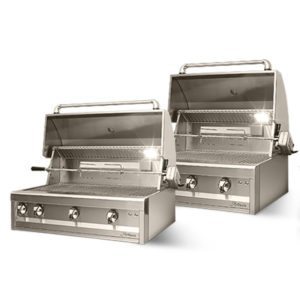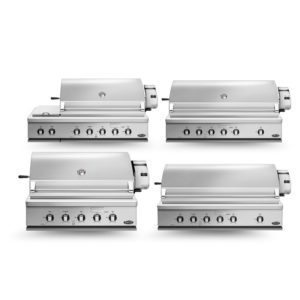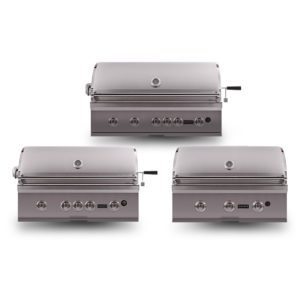 ---
Best Grills in the Business
The reason we can be so confident about our grills is that they are the legendary Kamada Joe cooking grills, for which we are proud to act as a distributor. These highly capable grills can do everything—grill, sear, and even smoke your foods. They feature the greatest cooking surface available on the market, which means you can conveniently fit all your food on the cooking surface.
We have the perfect type and size of outdoor kitchen grill for you, from the Joe Jr., perfect for preparing smaller meals, right on up to the Pro Joe, which boasts a whopping 24-1/2″ cooking surface. This deluxe cooking system features two-tier cooking with intense heat retention and a precise venting system. You will love its brushed stainless steel appearance and the mouth-watering foods that result from it.
We also offer a full line of outdoor kitchen grill accessories to provide everything you need for the ultimate outdoor cooking experience. At our Tomball store, you will be able to find lump charcoal, grilling utensils, grill covers, fire starter, and even the very useful table stands where you can set your food before and after grilling.
TLC Outdoor Living aims to become your one-stop provider for all things needed in your outdoor kitchen grilling, and we make sure that along with offering the best products to our loyal customers, we also provide the most outstanding customer service.
---
Get the Best Houston Outdoor Kitchen Grills Today!
Visit us at our store or schedule a time when we can provide you with a personalized tour. We have an amazing variety of outdoor living ideas, and you may find some that would work well in your own outdoor oasis.
Or check out other products and services:
The Best Hot Tubs for Sale Houston, TX
The Best Outdoor Kitchen Grills in Houston, TX
The Best Custom Outdoor Kitchen & Patio Builders Houston, TX
The Best Custom Luxury Pool Builders in Houston, TX