Having a swimming pool installed can be a wonderful experience for your household. This kind of home feature opens up a new world of possibilities. Pool parties for the kids may enhance their summer experience. You can entertain friends, neighbors, colleagues, and clients in comfort and style, as you lounge outdoors by your new pool.
Do not make the mistake of using a swimming pool company that provides mediocre products. This is a part of your home that will be there for many years to come. By investing in a pool created by a luxury pool builder, you will ensure that the final product will be one that impresses you.
True Quality Makes a Difference

As with any other aspect of your home, consistency and fabulous design make all the difference. This is why you must hire the best luxury pool builders to do the job. A talented, experienced luxury pool builder also serves as a designer. This person will help you to plan the aesthetics and functionality of your new swimming pool. Once this has been accomplished, the rest of the team will carry out the plans you have so carefully devised.
If you employ a team that does not make quality a top priority, important details could be overlooked. Instead of working to achieve a consistently high standard, the company may be more concerned with getting the job done as quickly as possible. While it is certainly desirable to use pool builders who are efficient, you should not be forced to sacrifice the overall quality of your project.
Proper Communication is Essential
Clear communication is another benefit of using a luxury pool service to create your residential swimming pool. If there is a breakdown between the design team and the builders, you may find yourself with a mediocre pool. The final product may be acceptable, but it might not be the pool you were hoping to own.
When all of the people working to construct your pool do not communicate well with each other, the results could leave you unhappy. Poor communication can lead to a series of small mistakes in the design. These mistakes might not be immediately visible, but they may affect your overall experience.
Luxury Pools to Meet Your Needs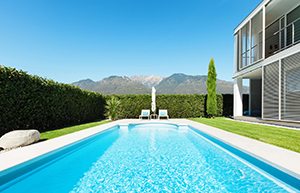 At TLC Outdoor Living, we believe that the vision of the customer should always come first. We want you to be delighted with the luxury pool we build for you. We will work with you to design a pool that fits your needs, preferences, and lifestyle. We believe that every component of your pool system should work seamlessly together. We will collaborate with your from the beginning to the end of your project. If we do not quite understand a concept you have in mind, we will continue to communicate with you until our understanding is clear. You should never have to compromise your dream of building the luxury swimming pool you really want.
Before we get started, our design professionals will talk to you about what you envision for the end product. Every detail is important, from the shape to the material to the color of your pool. The layout of your yard is important if you are having a pool built outdoors. If your luxury pool is to be constructed indoors, we will consider the layout of your home's interior.
Relationships Matter
Our relationship with you is the foundation of your project. Just as our team must communicate well as a unit, we must also extend that to our communications with you. You have the final say on any project we design for you, of course. Your opinions, insights, and approval are all vital to the success of any swimming pool we build at your home.
Exploring the Possibilities
When we are planning your luxury swimming pool, we will discuss a broad assortment of important factors. We will not produce an ordinary pool for your household. Instead, we will craft a resort-like pool that makes a spectacular addition to your home. We know that you are not paying for a ho-hum experience. You want a residential pool that provides a unique escape from the pressures of modern living. We will deliver all of this and more.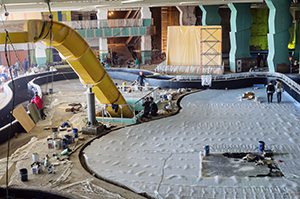 Our luxury pool designers bring a sense of artistry to our projects that will leave you breathless. If you desire a pool in a novelty shape, we can do that for you. We can build a luxury pool in the shape of a mermaid, a dolphin, or an abstract figure.
If you want us to construct a waterfall to accent your pool, we will be happy to do it. We can create a border from mosaic tiles that may rival any sculpture you might view in a gallery. Concrete stamping may further the design style you seek. Our team can give the exterior or your pool a look that is modern, classic, or whimsical. If you want a hot tub or smaller pool to offset the main attraction, we can certainly install that, as well.
Our luxury pool artisans can also be creative with the interior of your swimming pool. If you want a mural of a magical underwater world, you should be able to have it! Your pool could be painted a broad array of colors, from deep blue to sea-foam green to black to pearl gray. The hues that you choose will have a serious impact on the overall effect. A soft tone could be used to create a calming retreat for newlyweds. Bright hues may be perfect for people who entertain often.
Lighting is another important factor when designing and building a magnificent residential pool. We can install a few lights or dozens of lights. You might want to surround the pool with as many lights as possible.
Other features worth considering include steps to accent your pool, dividers to create various effects, and sculpted seating installed directly in the pool itself. Let your imagination run wild! Our team is talented and equipped to customize pools to meet the creative specifications of our clients.
When Reputation Counts
You may see many choices when you explore pool companies in the Greater Houston area. However, the majority of pool companies do not have our reputation for excellence. We have served local residents for more than 10 years, and we look forward to exceeding your expectations. We are always pleased to see the expressions on our customers' faces as they view the luxury pools we have built for them. Those expressions are priceless, and they prove that we have performed our jobs to the utmost of our abilities.
No matter what the style, scope, or size that your swimming pool project might be, TLC is ready to get started. We will not be satisfied until we know that you are thrilled with your luxury pool. We never, ever settle for mediocre, and we do not think that our clients should have to do so either. You will not be disappointed with our superior craftsmanship, creativity, and never-ceasing commitment to quality.
Our dedication to producing amazing swimming pools is reflected in our attitude when communicating with customers. Your project is as unique as you are, and we want you to feel special as you descend the steps of your spectacular pool and bask in the luxury of it all. We provide attention to detail that common pool companies simply cannot offer. The TLC team prides itself on giving every customer a remarkable experience, from conception to delivery.
We are ready to discuss your specifications for the swimming pool of your dreams! Discover the difference of working with luxury pool builders for your project. Call us today at (832)678-8970, or contact us online for more information. When you commission the TLC Outdoor Living team to create your swimming pool, you can be sure that it will be far from ordinary.