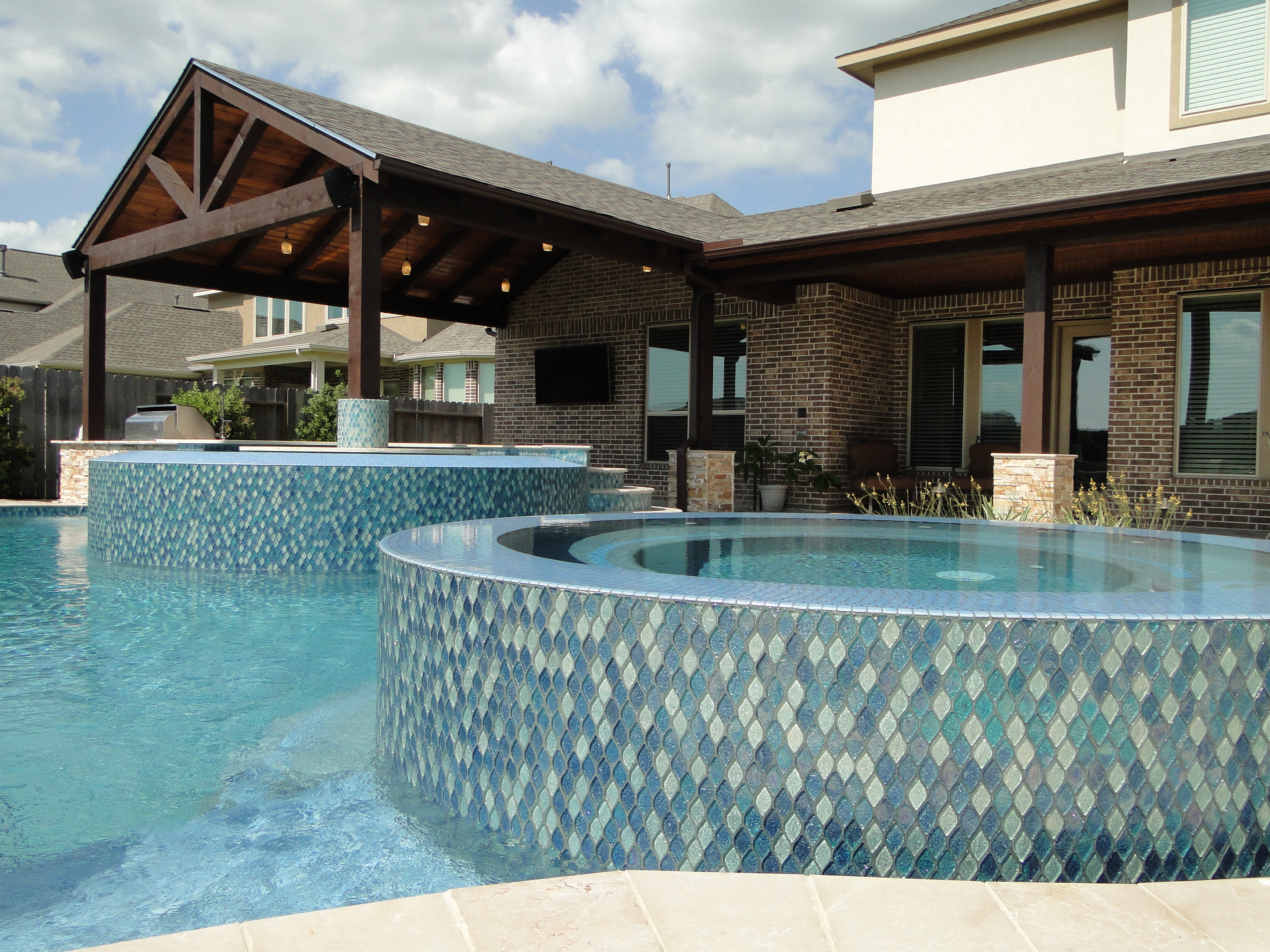 Award-Winning Custom Inground Swimming Pool Builders
When you purchased your home, you were excited about your lot having room for a pool. Having a private pool in your own backyard is a goal for many families. Imagine being able to sit outside and relax on a chaise with a book in your hand as you listen to the rolling sounds of your pool's water feature, or enjoy an afternoon grilling in your outdoor kitchen as your kids splash and play in the pool with their friends. Sounds perfect, right?
Are you concerned, though, that it will be too much of an undertaking to have a custom pool installed? How do you know how much space your ideal pool will actually need? Which type of pool should you get? What about the landscaping aspects around your pool? Many homeowners don't know where to begin. If not done correctly, installing a custom pool certainly can be an overwhelming project, as the variables involved in designing, planning and installing a custom pool are many.
Custom pools can be as fundamental or as creative and elaborate as you would like. It does require careful consideration and planning to ensure that the pool you're envisioning is installed correctly with proper consideration of your particular backyard, your topography, your budget and much more.
TLC Outdoor Living is one of Houston's best pool builders because of our incredible reputation for creating and installing custom pools with such integrity and quality that the pools are sure to offer families years and years of enjoyment. TLC Outdoor Living approaches each build from an architectural and engineering mindset and truly customizes each pool we design and install.
Call TLC Outdoor Living now at 832-678-8970 for a FREE consultation on how to move you closer to your "Dream Come True" new pool!
When one thinks of a "custom pool" they might often think of an elegant pool with a rock slide, a grotto, and elaborate landscaping, and, of course, a hefty price tag. While a custom pool can be those things, TLC Outdoor Living has a broader definition of "custom" and believes that attention to detail is the only way to deliver authentic customization.
Other "custom" pool installation companies might overlook details such as how thick the concrete truly needs to be for your particular soil. If a company presents you with a plan and design for a custom pool while basing their projections off of specs similar to other customers' homes, that is not truly delivering you with the customization you need to ensure that your pool is installed with the foundation and capacity to last for years and years. TLC Outdoor Living understands the importance of being able to customize a pool to be the absolute best fit for your particular backyard specifications.
Another type of backyard where customization is key is when a backyard has unusual architectural aspects or when the pool needs to be installed in a confined space. TLC Outdoor Living has a history of pulling off what others say is impossible and being recognized for installing incredible custom pools in tight and limited spaces. Being able to identify the opportunities where customization can provide possibilities for your dream pool helps us stand out as a preferred custom pool installation team in the Houston area.
Call TLC Outdoor Living now at 832-678-8970 for a FREE consultation on how to move you closer to your "Dream Come True" new pool!
Award-Winning Custom Pool Builders
Media outlets like HGTV, Fine Living, Aqua Magazine, and A&E have featured the professional pool builders of TLC Outdoor Living for our amazing and quality work on custom-built swimming pools. We have received top honors, winning several design awards for remodeled outdoor living spaces, including the coveted Houston's BEST Prism Award, presented by the GHB Association for two years running!
These awards and recognitions validate our reputation as a highly-qualified and trusted builder for custom-made pools.
TLC Outdoor Living conducts each buildout with integrity and a genuine desire to provide superior customer service. With a deeply rooted love for the outdoors and for serving others, we are honored to create something families love. TLC outdoor living has a wealth of knowledge and experience in designing and bringing to life the most breathtaking pools and backyard retreats that you have ever seen.
Owning a pool that is designed and constructed by TLC Outdoor Living pool is like owning your own private resort or liveable art installation right in your backyard! We have designed custom pools from infinity edge pools to curvy pools with rustic stone-accents to custom pools with an Asian botanical garden theme to functional, yet attractive private exercise pools. We work with both chlorine and saltwater systems, as well as heated options so you can enjoy your pool even during the winter months.
---
Call TLC today to at 832-678-8970 to schedule your FREE consultation.
---
Read More
---
Contact TLC Outdoor Living Today To Begin The First Step Towards Creating The Pool Oasis Of Your Dreams!
---