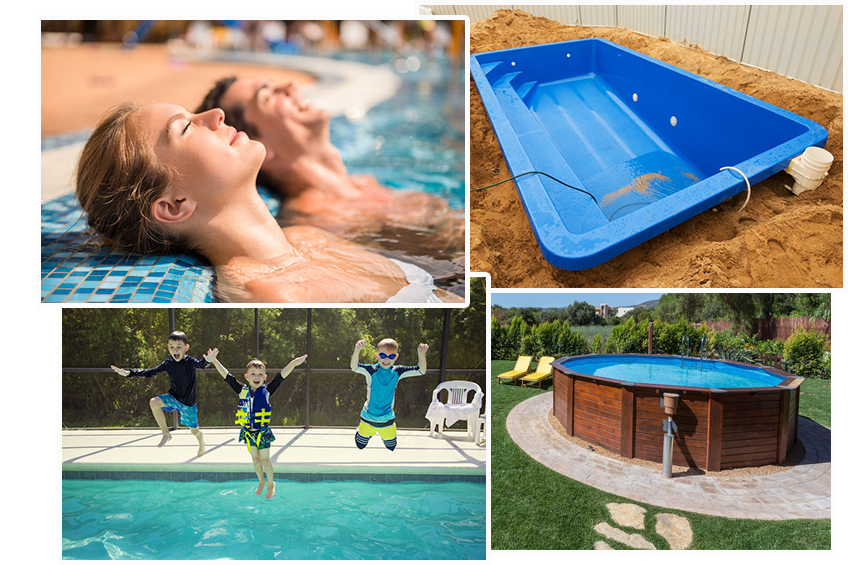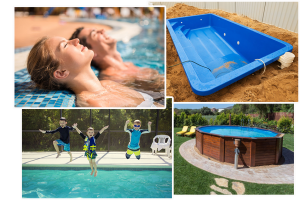 Homeowners are always looking for new ways to make their homes as comfortable as possible with all the amenities the homeowners can afford. This means having a beautiful backyard for entertaining guests, a swimming pool, manicured lawns, a pouch, and other outdoor facilities. A pool is a great way to cool off during hot summer afternoons in Houston, Texas. A beautifully designed pool can add to the attractiveness of your backyard and it can be the main attraction in your patio. A luxury swimming pool in your home can be a great way to add cardio exercise to your routine. Swimming is fun and offers a great deal of health benefits.
Types of swimming pools
There are two main types of swimming pools, one is an above-ground swimming pool and another is an in-ground swimming pool.
1. Above-ground pools
Above-ground pools are the cheapest kinds of pools. Some of them are portable and can be assembled, dismantled, and rebuilt in another location. Most above-ground pools are delivered as pre-assembled parts. The parts are then assembled in the convenient location for the homeowner. The downside of these pools is that they are not very attractive and they do not last long. Above-ground pools only take days to build compared to in-ground pools that take months to install depending on the complexity of the pools. Above-ground pools are not luxury swimming pools as they are not meant for appeal but for enjoyment and leisure.
2. In-ground swimming pools
In-ground swimming pools are complex pools that take lots of consideration before deciding to build one. This kind of pool is classified as a luxury swimming pool. The process of building an outdoor luxury swimming pool involves digging out a hole of a specific measurement. A pool is built or fitted inside that hole.
Luxury swimming pools add an element of beauty and status in your backyard. They also portray an ambience of serenity in your place. Most families enjoy a backyard pool party or a barbecue party around the pool. A well-lit poolside or an garden party at your taking of its physical appeal will make your whole backyard look amazing.
Luxury is not something you can just throw in a penny and purchase over the counter. If you want your swimming pool luxurious enough to suit your style, get the best luxury swimming pool only from reputable builders. Houston, TX housed reliable and expert pool builders that will meet your taste and demand.
Materials used for in-ground swimming pools
In-ground swimming pools are considered to be luxury swimming pools. They need to be designed and built by experts. An expert will build a durable luxury swimming pool that suits the homeowner's needs. In-ground swimming pools are built for different types of materials used. There are three types of materials used for in-ground swimming pools. They are vinyl, concrete, and fiberglass.
1. Vinyl liner
A vinyl liner pool is a suitable option for homeowners who are not looking to spend a lot. It costs less compared to concrete pool or fiberglass pools. This material can still be used for a luxury swimming pool. Variety of designs for luxury swimming pools using vinyl liner can be built. If you reside in Houston or nearby areas, you can find luxury swimming pool builders that will offer you the best. Vinyl liner pools are not easy to build but technology has made it possible to construct large-sized pools. Choosing vinyl liner pools has its pros and cons in terms of durability and appeal. It is important to know these and check if the vinyl liner type will be your choice.
2. Concrete
Concrete was the traditional material used for a swimming pools. Later on, concrete swimming pools where tiled as a form of pool finishing touches. Experts are quite good at building luxury swimming pools using concrete. It is easy to build a luxury swimming pool with a complicated design with concrete.This gives homeowners more available options for the luxury swimming pools to choose from and build in their backyards. There are qualified luxury swimming pool builders in Houston, TX.
3. Fiberglass
Luxury swimming pools made of fiberglass are gaining popularity. Fiberglass swimming pools are expensive to install. The investment in choosing fiberglass material over vinyl and concrete is high. However, fiberglass swimming pools can save you money in the long run and will turn out cheaper in terms of repairs and maintenance costs. A fiberglass luxury pool has many advantages like fewer cleaning requirement, zero regular water treatment, plus they last longer, and they are less prone to wear and tear like concrete. The design of the luxury pool cannot be customized. The pool is made in a plant then it is transported and fitted in a clients yard.
When necessity comes before luxury
Luxury swimming pools demand money and sound decision-making. If you desire to have a luxury swimming pool installed in your yard, you will list down important considerations. First, check your budget. Does your dream pool exceeded your expectation? Measure your yard. Can your backyard accommodate the size of your dream luxury pool? Have experts check the soil composition where to dig a hole. This way, they may determine the type of materials to be used in your luxury swimming pool. If it does have a rocky ground, the spot is conducive for concrete pools. If you find delight in fiberglass pools, you may have to pay more for excavation.
Totally, the budget of the pool will depend on the design and the materials used. Vinyl can be the most affordable. Vinyl layer luxury pools can spare you the expense in the lifespan of the pool due to their low maintenance. A concrete luxury swimming pool is the second expensive option but it may require costly maintenance especially that concrete has numerous undermining variables against wear and tear. Lastly, fiberglass will cut much of the budget because it is the most expensive material for luxury swimming pools.
Residents of Houston can visit luxury pool builders in Houston, TX and request to see their portfolio of luxury swimming pools.  Portfolios are real projects that the builders have done in the past for their customers. Seasoned luxury pool builders in Houston, TX have some items like hot tubs in their store.  The items match those pictures in the builder's portfolios. This gives the client a feel of the quality they will get for their luxury swimming pool. Expert luxury pool builders in Houston, TX will openly tell their client the period they have been in the business and their list of satisfied clients.
Importance of hiring a luxury pool builder
A luxury swimming pool is not like an ordinary pool. Luxury swimming pools have elegant designs, shapes, and colors that require accurate calculation to bring out a quality pool. Luxury swimming pools are usually larger than standard swimming pools. If you want the best luxury swimming pool installed in your home, you need to hire a professional luxury pool builder. A reliable and expert luxury pool builder has a proven reputation and good track record. Because experts have been in the business for many years and have served countless of clients, they have mastered the craft of building luxury swimming pools and realized the dreams of those aiming to experience luxury.
A reputable luxury pool builder should be certified and licensed. Luxury pool builders in Houston, TX should be in a position to take a client through the basic process of building a luxury swimming pool. Quotations are sent out on different pool designs for a homeowner to have a reference of choice and understanding. They are are a good way to find out which pool fits your budget. When everything has been mapped out, a professional luxury pool builder should undertake the project on contract, as this serves as the guarantee on finishing the pool purchase and project.
Luxury at its finest
For those who live in Houston in summer understand the importance of a swimming pool. Way beyond than having a good reason to cool off, a luxury swimming pool will complete the essence of having a good home. A home with a swimming pool attracts a higher resale value than a house without one, what more of a house with a luxury pool? A luxury swimming pool will definitely bring fun and enjoyment, let you experience luxury, and make your leisure all your money's worth.