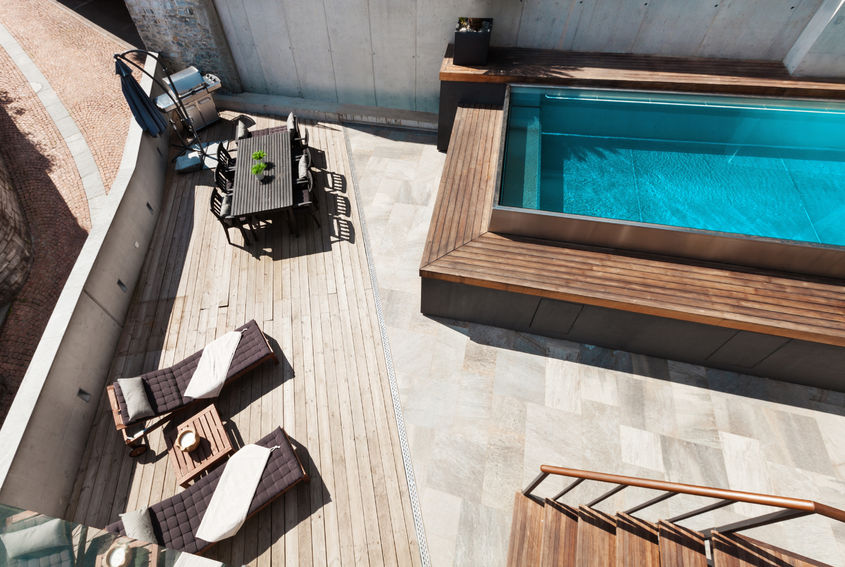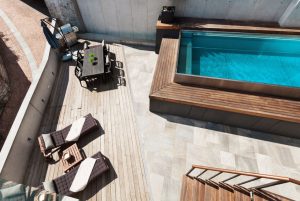 An excellent pool design is not a luxury reserved only for big homes with wide outdoor spaces. With advancements in technology and design ingenuities, homeowners with smaller outdoor spaces can also enjoy having this amenity on their properties. Even with a small backyard, an experienced custom pool builder can creatively fit a beautiful and functional swimming pool into a property in Houston, TX and its surroundings.
Here is a list of some of the most innovative small pool designs that can fit in your small suburban yard.
Plunge pool
A plunge pool is suitable for homeowners who desire to soak and relax in the sun. Due to the pool's smaller diameter and volume, it is considered economical. The overall cost of heating and maintaining the pool is arguably very low. Although it might not serve the same purpose as full-sized swimming pools or lap pools, a plunge pool is equally great for refreshing during the hot summer days. A plunge pool is shallow enough for children to play around and its cast concrete makes it perfect for summer splash.
Spool
An upgraded plunge pool is called a spool which doubles up as a spa. It can save a lot of space in a small area because it serves many purposes. It is economical to heat the water and maintain its warmth during winter. A spool has built-in jets and seats, which makes it perfect as a relaxing spa. The shape of the spool complements with the available backyard space.
Garden side pool
A garden side pool can be a charming addition to the design of a garden. Even with its small size, a custom pool builder in Houston, TX can creatively incorporate natural elements to make it look great. When not in use, the pool can look like an enchanting artificial lake or water feature in the garden.
Petite infinity pool
Petite infinity pools are created to have an illusion that the swimming pool looks bigger than its actual size on hilly backyards. A professional pool builder knows how to work out the design on backyards on a slope to create an infinity pool design. The design makes the pool look bigger, even if the spot is relatively small.
Modern and contemporary
Modern and contemporary small pool designs are suitable for homeowners who are into the modern vibe. However, it is important to assess the style of the backyard and house before choosing a modern and contemporary small pool size because it can alter the entire design of a property's landscaping. These small pool designs often take cubic or rectangular forms. Also, it is easier to measure and settle for the most appropriate style because contemporary designs are versatile.
Curvy and round
Semi-circular pool designs are very common in homes with circular pools. The curvy and round pool designs can be used creatively to present an ambiance of a tropical retreat. Irregular shapes can also be used to create classical designs. These pools are perfect for people looking for a tropical backyard that looks like a small beach. Adding a bit of different irregular shapes on the pool design will divert the eyes from the small pool's real size. The design of the pool can be enhanced by adding features such as Jacuzzi, fountain, spill effect, seating benches, therapy jets, and LED lights.
Free-form pool
A free-form pool emulates the shape of the background concrete. By taking or copying the shape of the background, the free-form pool can match any outdoor space to form a functional pool. With this type of pool, a homeowner will not have to deal with wasted or unoccupied corners. A free-form type of a pool will depend on the expertise of the custom pool builder, materials used, and the homeowner's desired design.
Custom pool builders in Houston, TX know how to get creative by utilizing limited outdoor spaces for adding vital features such as outdoor kitchens pergolas, pools among other outdoor accessories. Sometimes, a small pool design installation might seem impossible on a property based on the direction of the home. But, a swimming pool builder with years of experience in handling a wide range of outdoor spaces will creatively come up with something suitable. For example, a home with a deck can have a small pool design addition to the existing setup. Actually, this is a perfect spot to install a free-form pool because extending a deck is easier, especially if it does not have any foundation issues.
Hidden pools
Hidden pool technology has made the installation of pools more versatile. The technology allows a homeowner to transform a simple lawn into a swimming pool without consuming too much space. With the hidden pool technology, a homeowner can hide or reveal the pool with just a click of a button.
Although it can be a huge investment, it is a valuable addition to any property. Furthermore, it is an efficient and versatile use of limited space. Even if the pool is hidden, it is big enough to jump in and splash around. An outdoor shower can be a great addition to a hidden pool design.
Lap pool
Homeowners with narrow blocks of land can opt for a lap pool that is installed parallel to the house. The pool is installed right up against the house's wall or fence line. A lap pool does not require a lot of space just like the plunge pool. It is easy to leave enough space for entertaining and patio with a lap pool that runs across the back of a suburban yard.
The design makes the very most of a small side yard, with a narrow pool, entertainment deck, and some room for roaming around freely. When LED lights are installed in the small lap pool, the entire area will look more romantic and luxurious. The light makes the pool area stand out from the rest of the backyard.
Water feature
In situations where a custom pool builder concludes that your outdoor space is not suitable for a small pool, a water feature can be designed. Although the water feature will not allow swimming, but it will bring some level of tranquility to the outdoor space of a property. Moreover, the homeowner can cool off by dipping his or her feet in the water during hot afternoons. In other words, with the expertise of experienced custom pool builders in Houston, TX, there is a solution for every outdoor space.
Indoor pool
Homes with unused spaces on the first floor can also consider installing an indoor pool. Although it is a less budget-friendly option that requires a lot of planning, it is a great way of adding value to a residential property. A custom pool builder will discuss the possible designs with the homeowner before crafting a livable space with a unique indoor pool that matches the home's interior décor. The swimming pool designer will make use of the limited space in the house to create a cool and fresh area inside the house. In no time, the homeowner will start considering the small pool area the most serene and best space in the entire house.
Why small pools are a click
Small pool designs have become trendy in the recent past as most homeowners with smaller outdoor spaces do not want to be left out of the equation. Interestingly, some homeowners are ditching their Olympic-sized pools for more chic and modern pool designs that are smaller in size. Moreover, smaller pool designs take up less space and are easier to maintain than their larger version pools. Also, small pool designs are great for children who should only swim in kiddie pools with shallow depths.
If you want a smaller custom pool for your home, contact TLC Outdoor Living and discuss with the experienced custom pool builders on how you can affordably get a luxurious, small pool design on your property. Regardless of the size of your backyard, TLC Outdoor Living will work out a pool design suitable for your budget and personal preferences.