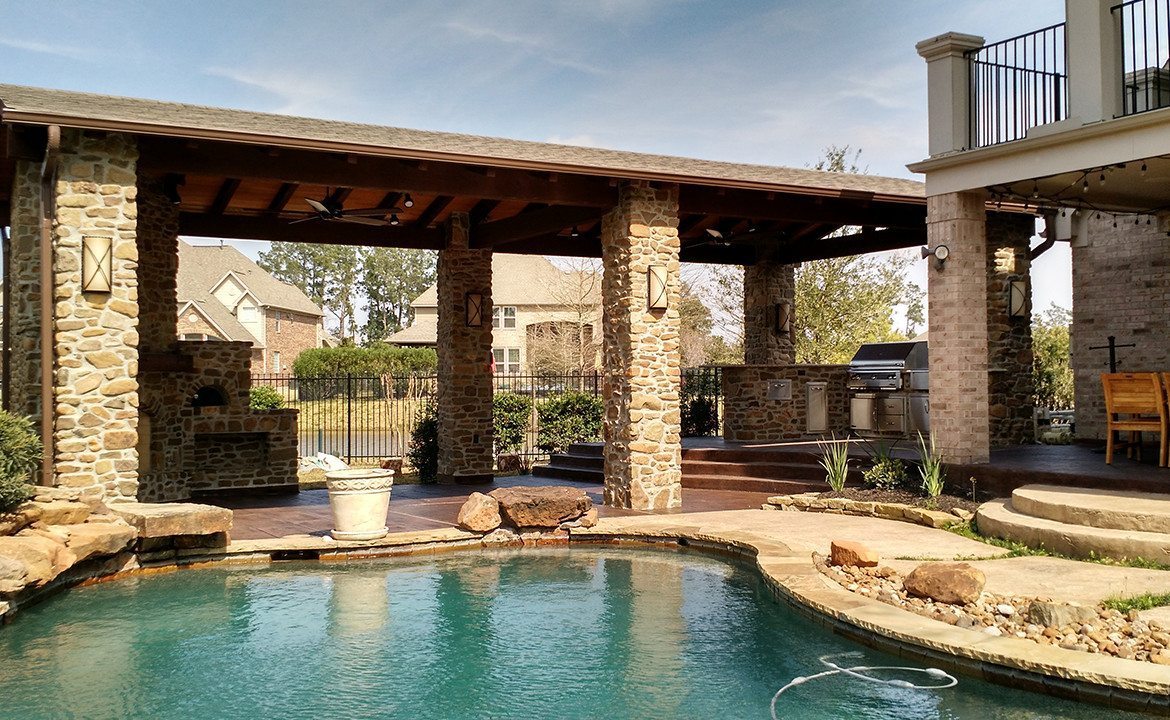 Everybody likes basking in the sun, enjoy a relaxing time with your friends while taking a dip in the water, and where else is the best place to cool off during summer than at the inground pool. It is everyone's dream to build their own inground pool in their backyard and the big question that befuddled all of us is the actual cost of building an inground pool. This is a significantly hard task since there are a few things you have to consider such as the equipment, tools, size, and design. The best way to have an exact amount is to get a quote from a dependable contractor. TLC Outdoor Living is the top luxury pool builders in Houston, Texas, and they help customers actualize your dream inground pool and increase the value of your houses by providing you excellent services.
Cost Factors of a Backyard Pool
One of the large factors of the installation process is the size of the pool. Obviously, the larger the pool, the bigger the cost. Basically, the average pool cost is roughly around $25,000. The most typical size of the pool in Houston, Texas, is small.  A small pool with a 10 by 20 feet costs around $9,500.
The location of the pool.
TLC pool builders have to consider the location of your house since if the position of your house in the neighborhood does not have an easy access, the crew may need additional equipment. It also affects the labor cost to prepare the soil and install the pool.
The features of the pool.
Residents in Houston, Texas, choose to customize their pools by adding lightings, rocks, and plants, or other luxury features like spas, slides, diving boards, and spas.
TLC Outdoor Living pool builders highly recommend their customers to add some amazing lighting in their pools for those who are keen on swimming at night.
Other Installation Cost Considerations
Since Houston, Texas, has a humid subtropical climate. Most residential pools have pool covers to reduce the evaporation of water and keeping leaves and other debris away from the water.
Having a pool heater helps to regulate the water temperature in different seasons. In Houston Texas, during winter, the lowest temperature can reach up to 11.7 °C in January.
Depending on your location, some municipalities require building permits to build your own swimming pool. As stated in the Swimming Pool Ordinance of Houston Texas, homeowners must pay $85.00 for operating permit inspection fee.
Installing a swimming pool increases the value of your property which may result in the increase of the property tax.
Build Your Dream Pool at Very Competitive Prices
It is not easy to know the exact amount of having your own custom pool in your yard. After reading this article and other related articles in this blog, hopefully you will have a good start to your research. As you begin to have an idea of how much your custom swimming pool will be, you have to start planning how to pay for it and save money.
When you are finally ready and financially able, get in touch with the best custom pool builders in Houston Texas. TLC Outdoor Living has been faithfully serving in Texas for more than a decade. If you want to work with a credible and trustworthy contractor, you may contact us and let us make your dream backyard swimming pool a reality!