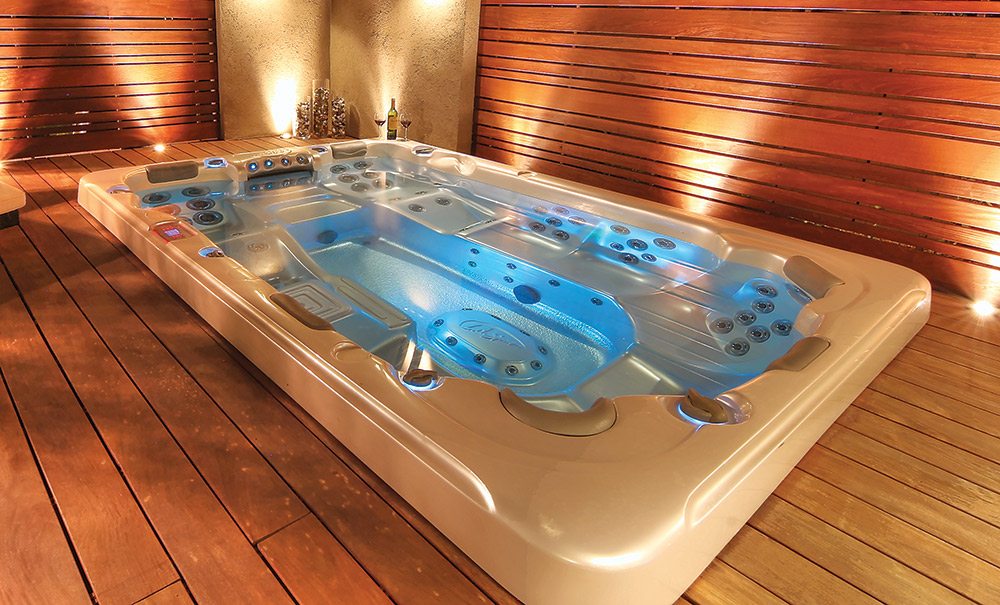 The client behind this project in Spring, Texas, asked for just a few things. An outdoor kitchen. A bar. An extended roof. A custom fireplace. A seating area. A hot tub. For Michael Harkins, founder/president of TLC Outdoor Living in Tomball, Texas, this wouldn't be a problem if it weren't for one thing:"
The main challenge was fitting everything into such a small area," he says with a laugh.
With an already small lot, and a utility easement, further limiting available space, Harkins and his team strategized a way to fit everything in two areas — a 15-by-22-foot covered patio and a 15-by-17-foot spa deck — and make everything look stunning, too.
As the photos prove, he more than succeeded. APSP's Awards of Excellence judges agreed, giving TLC Outdoor Living a silver award in the Exterior/Interior Portable Hot Tubs category.
---
The Layout
Not only did the client have a long wish list, he wanted everything to feel natural and cohesive in the space. "Everybody says the same thing right now: They want a big, open feeling while still having the ability to flow from one space to the next," Harkins says. Doing so requires careful planning from the start; TLC's team set out to create clear paths of movement from one space to another with no dead ends. "I'm looking for a nonstop path that enables movement in a full circle," he says. "And this structure yields that well."
Under the extended roof is the outdoor kitchen, which is positioned near the patio doors to make it easy to bring things in and out of the house. Steps away from the kitchen is a seating area with a TV and a two-way fireplace, which offers a view of the patio table on the other side of the wall.
Across the kitchen is a bar area with a large window open to the hot tub, an L.A. Spas model. The tub was sunk into a raised deck; not only does this make the spa look more attractive and facilitate entry and egress, it connects the rooms and makes it easy for those at the bar to chat with — and even pass a drink to — those in the hot tub.
"With the pass-through bar, people have the ability to just talk with you and be right there with you — not just off in the distance," Harkins says.
---
On Deck
To create privacy and add some artistic flair, the hot tub area features a unique wood screen. The wood used in the hot tub surround and screen is ipe, the popular Brazilian hardwood. Because it's so dense (Denser than water, in fact. It doesn't float), termites can't penetrate the surface, making it an ideal choice for the Texas climate.
To make the screen, Harkins cut the decking to various widths and blind-screwed them from the back to stainless steel posts, so no screws are visible from the front. The result is a uniquely patterned screen that doubles as a work of art.
"It took forever, given that there's probably 1,000-plus screws just in that ipe screen. Each one of those pieces is screwed on each one of those posts, and there's probably 10 or 12 posts, so it took a good amount of time," he says.
To get that beautiful rust color, Harkins applied an oil to the wood, which also protects it from UV rays.
---
The Hot Tub Life
This marked only the third time Harkins has used a hot tub on a project, but that number is likely to spike. On August 1, TLC opened its own hot tub showroom, which specializes in Bullfrog spas.
"[We saw] more and more people not just looking for pools, they were looking for the therapy of an actual portable hot tub with all the jets. So we started looking into them and decided we wanted to carry them," he says. "It was the next step for our business anyway. We were at that point trying to decide whether we were going to go into maintenance or retail, and I'd much rather be standing in an air-conditioned store selling something than pushing a lawn mower."
View More Articles | Source: Aqua Magazine