Best Custom, Luxury, Swimming Pool Builders in Houston, TX
" We design Award Winning, Unique, Custom, Luxury Swimming Pools"
Call us today !
Top Pool Builders in Houston, TX
---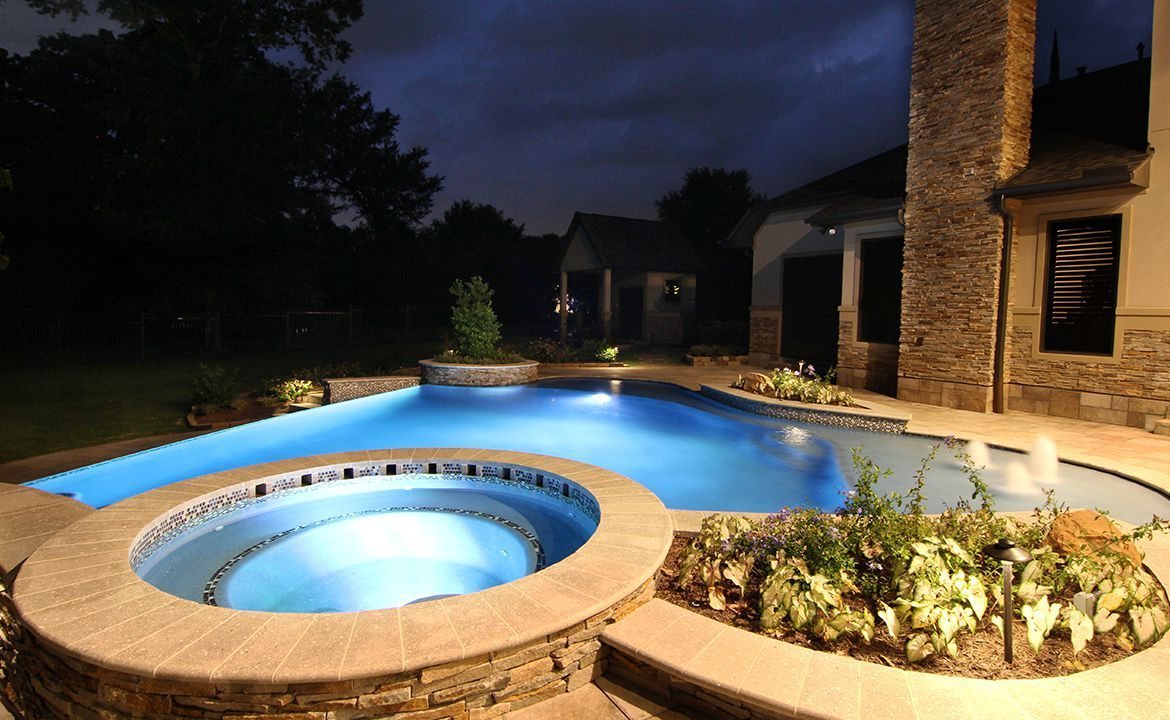 TLC Outdoor Living is known as one of the top Houston pool builders because of their award winning custom pools and luxury pool environments. We offer our customers nothing less but the best in professional pool building services and give them the swimming pool of their dreams.
TLC Outdoor Living is known for crafting some of the best luxury pools that come out of the Houston area. So if you live nearby, then you are just minutes away from one of the best luxury swimming pool builders and pool companies in Houston.
Each builder employed in our team is considered the cream of the crop in the swimming pool design industry, and they will provide the same level of quality custom work to customers with swimming pools in the Houston area.
You have always wanted to treat yourself with your own custom-built, resort-style luxury swimming pool, designed by a professional luxury pool designer. Now is the time to get off the fence and make one of the best home improvements that you could possibly make. Do this by simply adding one of the most luxurious and breathtaking custom additions to your home that you could make—your own custom-built luxury swimming pool. And even when you are not using the swimming pool for swimming, it would still give your home an awesome ambiance that will give you the best resort-like experience at the comfort of your own home.
Just imagine what your backyard space would look like. With TLC Outdoor Living, it would be awesome, and it would change the way you live and appreciate your Houston-based life.
Beautifully Designed Luxury Swimming Pool
---
What should you look for in a luxury pool builder? Everybody loves a beautifully designed luxury swimming pool, especially during the warmer months. For Texas homeowners who want to lounge around in the back patio, throw a huge backyard barbeque party and enjoy a refreshing swim in a new, luxurious swimming pool this summer, now is the time to utilize one of the top custom pool builders Houston has to offer, to build your Southern oasis. But how does one choose the right pool companies Houston for the job?
There are many factors to consider when hiring luxury pool builders. Some homeowners are lucky to have friends or family members with pools who have worked with a good custom pool company in Houston in the past and who can provide references, but not everyone has those connections. Therefore, it is important to choose a swimming pool contractor or swimming pool company like TLC Outdoor Living that not only does a great job, but also delivers top notch service with integrity.
Best Custom Pool Designs in Houston, TX
---
As one of the best Houston pool builders, TLC Outdoor Living (located in Houston, TX) takes pride in our professional services in custom pool design and construction. Many Houston home and property owners have opened their doors to the TLC team of professional custom pool builders to make their outdoor dream pool a reality!
Our dedication to quality service and complete customer satisfaction pushes us to always do the job right the first time.
If you are searching for THE best Houston pool builder to create your custom pool, look no further! TLC Outdoor Living has you covered. We have what it takes to design and build your next luxury pool!
The One-Stop Shop for Your Dream Backyard
---
"Our Professional Staff Will Exceed Your Expectations"
Another great thing about our pool company in Houston is that in addition to providing our customers with luxury swimming pool designs, each builder also provides custom ideas by suggesting additional aspects in order for customers to better enjoy their custom backyards and luxury swimming pools.
Our TLC Outdoor Living store has all of the necessary accessories that you could possibly imagine. We offer custom swimming pool design accessories, which include everything from chairs for lounging around the luxury swimming pool to garden accessories that will add spice and character to swimming pools and outdoor areas. In fact, we even have all that you need for a full outdoor kitchen. As a Houston pool builder, we have everything that Houstonians need and want in order to create award winning back yard designs year after year. The ability to do this is what makes us one of the best Houston pool builders out there.
You can coordinate with a pool builder on our team to accommodate designs for your entire backyard area, for a more simple and personal enjoyment or for elaborate activities that may involve hosting and entertaining guests. We also have everything you need and will create a luxurious and custom poolside for your relaxation during the hot summer Texas afternoons or the warm Texas evenings. Whether relaxing or entertaining, we are your one-stop shop for everything you need for your outdoor living space!
OUTDOOR LIVING DESIGN
---
Let us face it! Everyone wants a perfectly designed outdoor living space that would literally take someone's breath away, a picture-perfect outdoor space that makes one look forward to coming home to arelax and lounge. Well, that is exactly what TLC Outdoor Living has to offer. We craft beautiful livable spaces.
If you are looking for the best outdoor living landscape space design and construction company in Houston, TLC Outdoor Living is the one that could make your dreams into a reality. From full outdoor kitchens to custom luxury pools, custom patio equipment and more, TLC Outdoor Living has it all.
We design and offer services for:
Pools
Hot Tubs
Outdoor Living Patios
Outdoor Kitchens and Grills
For details or to schedule an appointment, please contact us at 832.678.8970
Speak With A Design Expert