Best Houston Pool Builders - Top Design Company
" We design Award-Winning, Unique, Custom, Luxury Swimming Pools"
Call us today !
Best Pool Builder in Houston - Top Swimming Pool Contractor
---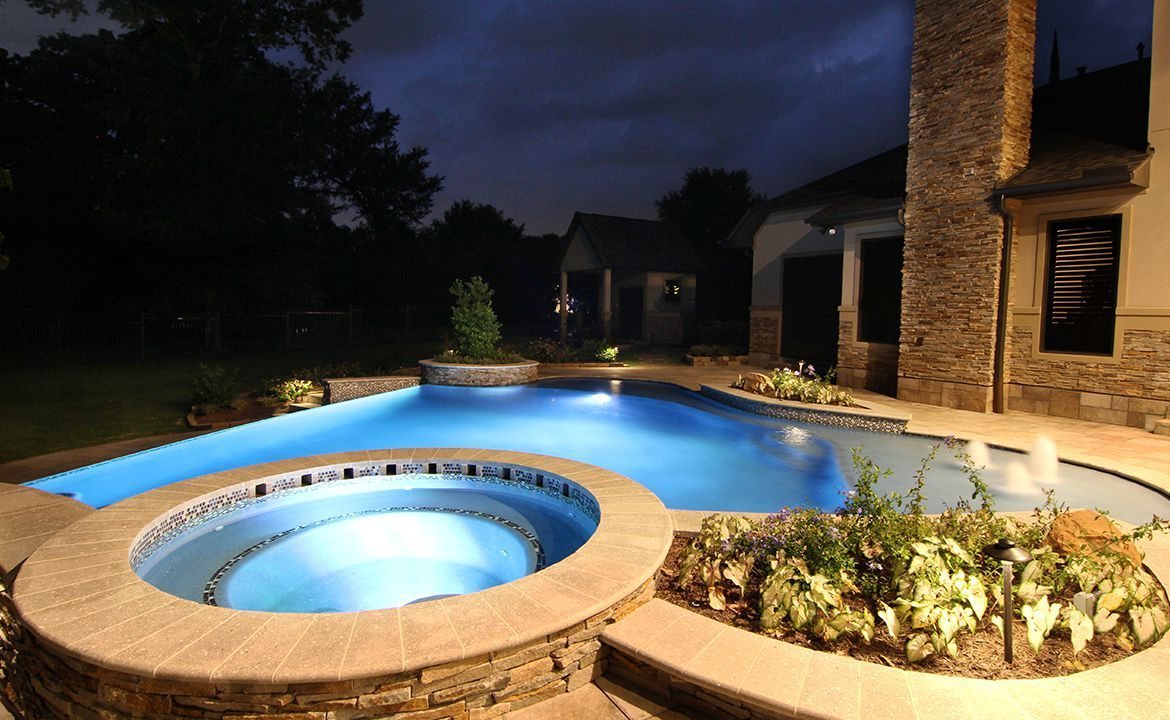 Improving your backyard is one of the most exciting things a homeowner can do. Houston, TX weather is temperamental at times, and some years feel like endless scorching summer heat waves. Adding a pool can completely change how your family spends its time. By adding a pool to your backyard, your family can cool off and have fun while soaking up healthy Vitamin D from our bright Houston sun.
Choosing the right company to oversee your pool addition project is of utmost importance. Mistakes or poor quality construction can end up costing you thousands in unneeded expenses. TLC Outdoor Living has a long-standing reputation as one of the top Houston pool companies. Our award-winning custom pools offer luxury, relaxation and aesthetic enhancements to your home. Examining a few key points that separate the legitimate pool builders in the Houston area from those who are dabbling in the industry will help you see why our reputation is so strong.
Great customer service
Great customer service is a given. If a Houston area pool builder does not provide excellent customer service, they are missing an essential requirement for any company. So, of course, you can expect exceptional customer service, but you deserve much more.
Experience and Credentials
With decades of experience in outdoor architecture, the TLC Outdoor Living team combines its formal education and its in-the-field education to deliver to each customer the backyard experience they envision. We are licensed and insured, as well.
Strong Portfolio
TLC Outdoor Living is known for crafting some of the best luxury pools in diverse styles that align with our customer's vision. Our portfolio demonstrates why we are considered one of the best luxury swimming pool builders and pool companies in Houston. Whether you want a resort-like custom luxury swimming pool or a sleek, minimalist design, our designs are 100% customized to reflect your taste and lifestyle. You will be amazed at how our professional team of builders transforms your outdoor space into a custom-designed, livable work of art.
Award Winning Swimming Pool Builder in Houston Tx
---
What should you look for in a luxury pool builder? Everybody loves a beautifully designed luxury swimming pool, especially during the hot summer months. For Texas homeowners who want to spend time in their backyard, throwing a huge barbeque while enjoying a refreshing swim in a new, luxurious swimming pool this summer, now is the time to utilize one of the top custom pool builders Houston has to offer.
There are many factors to consider when hiring luxury pool builders. It is important to choose a swimming pool contractor or swimming pool company like TLC Outdoor Living that not only does a great job building pools based off of their award winning designs, but that also delivers top notch service with integrity.
Best Custom Pool Designs in Houston, TX
---
As one of the best Houston pool builders, TLC Outdoor Living (located in Houston, TX) takes pride in our professional services in custom pool design and construction. Many Houston home and property owners have opened their doors to the TLC team of professional custom pool builders to make their outdoor dream pool a reality!
Our dedication to quality service and complete customer satisfaction pushes us to always do the job right the first time.
If you are searching for THE best Houston pool builder to create your custom pool, look no further! TLC Outdoor Living has you covered. We have what it takes to design and build your next luxury pool!
Convenience: One-Stop Shop for Your Dream Backyard
---
"Our Professional Staff Will Exceed Your Expectations"
In addition to our Design Center, another great service we are able to offer our customers is access to a myriad of accessories to create your complete backyard experience. Products available include everything from chairs for lounging around your luxury swimming pool to garden accessories that will add spice and character to swimming pools and outdoor areas. In fact, we even have all that you need for a full outdoor kitchen. As a Houston pool builder, we have everything that Houstonians need and want to create award-winning backyard designs that homeowners enjoy year after year. Whether relaxing or entertaining, we are your one-stop shop for everything you need for your outdoor living space!
OUTDOOR LIVING DESIGN
---
We know you want a custom-designed outdoor living space that enhances your life and is a picture-perfect outdoor space that makes you look forward to coming home to relax and lounge. That is precisely what TLC Outdoor Living has to offer. We craft beautiful, livable spaces.
We design and offer services for:
Pools
Outdoor Living
Patios
Kitchens and Grills
Read More
Speak With A Design Expert